Jon Satrom undermines interfaces, problematizes presets, and bends data. He spends his days fixing things and making things work. He spends his evenings breaking things and searching for the unique blips inherent to the systems he explores and exploits.
By over-clocking everyday digital tools, Satrom kludges abandonware, funware, necroware, and artware into extended-dirty-glitchy-systems for performance, execution, and collaboration.
His time-based works have been enjoyed on screens of all sizes; his Prepared Desktop has been performed in many localizations. Satrom organizes, develops, and performs with I ♥ PRESETS, poxparty, GLI.TC/H, in addition to other initiatives with talented dirty new-media comrades.
November 7-10: MediaLive Boulder Museum of Contemporary Art, Boulder CO US
July (late): StormCloudComputing at TriTriangle w/ Daniel Temkin
June 21: Performance at landscape, Chicago IL US
May 29:Crank Sturgeon, PCRV, Vertonen, JSoliday & jon.satrom at TriTriangle, Chicago IL US
May 20:Artist Built Tools & Slippery Standards at High Concept Labs, Chicago IL US
May 19: Chicago ♥ Detroit at Trinosophes, Detroit MI US
May 9 & 10: Performance & Lecture at Univeristy of Oregon, Eugene OR US
April 19 & 20: PoxParty & SkeumorFX at Notacon10!
winner in the DEMO category!
April, StormCloudComputing uploaded to Gallery A of Click Gallery Dot US jonsatrom.clickgallery.us
April 7, Opening for the final performance of Into The Uncanny Valley at Den Theater, Chicago IL US
April 6, TEDx: Creators & Curators, Museum of Contemporary Art Chicago IL US
April 5, Nightingale Theatre 5 Year Anniversary Screening, The Nightingale Theater, Chicago IL US
March 9, With a Voice Like the Lake -New Experimental Media Work from Chicago, Society for Cinema & Media Studies, The Nightingale Theater, Chicago IL US
March 19, 0P3NR3P0 (big ups to Nick Briz & Yolk) at the Museum of Contemporary Art IRL exhibition of glitch worx submitted to the 0P3NR3P0 as part of the Internet Superheroes series, Chicago IL US
March 16, 2013, (ᴳ̇̇̇̇̇̇̇̇̇̇̇̇̇̇̇̇̇̇̇̇̇̐litch) Art Genealogies, Berlin DE
March 9, 2013 2012: Year of the GLI.TC/H SXSW Interactive, Austin, TX US
Feb 8 - March 14,DVD Dead Drop Museum of the Moving Image, Brooklyn, NY US
December 6-9, GLI.TC/H
December, Interrupt This Program: A Glitch Art Intrusion in the University Center, APSU, Clarksville, TN US
November 7, IAM Visiting Lecture: Jon Satrom & Nick Briz: Columbia College, Chicago IL US
October 20, performance: Tritriangle Opening Night, Chicago IL US
October 16, Chicago Dirty New Media: Round Robin: The Museum of Contemporary Art, Chicago IL US
September 28, Satrom & Soliday performance: RCN Cave Akron OH US
September 26, Satrom & Soliday performance: Milwaukee WI US
September 23, Magic Missile performance at The Burlington, Chicago IL US
September 20, performance: Post Static at INTUIT: The Center for Intuitive & Outsider Art, Chicago IL US
September 11-November 4, Media City Seoul 2012 at Seoul Museum of Art, Seoul KR
August 16, Prepared Desktop Performance at DINCA Vision Quest 2012: COMPUTER BLOOD, Thalia Hall, Chicago IL US
July 11, 2012 SCREENING: "Private Negations" @ Sazmanab Project, Tehran IR
JUNE 8, 2012 jon.satrom REALTIME PERFORMANCE at Enemy, Chicago IL US
MAY 20, 2012 jon.satrom & Jason Soliday at Ende Tymes Festival, Outpost Artist Resources and Secret Project Robot, Ridgewood & Bushwick, NY US
MAY 2–20, 2012; OPENING: MAY 2 9PM: Les Transnumériques: SuPer Art Modern Museum (SPAMM) IRL, Brussels, BE
MAY 9 & 10, 2012 jon.satrom & Mark Beasley at the Hammer Museum and the Broad Art Center as a part of the UCLA 2012 Game Art Festival Los Angeles, CA US
April 21, 2012 Prime Real Estate at |\|() |\|Ơ|()|\|, Chicago, IL US
FEB 3, 2012; 4PM – 5:30PM: in/compatible symposium: in/compatible aesthetics: Uncorporated Subversion: Tactics, Glitches, Archeologies - PANEL w/ Jussi Parikka, jon.satrom, Michael Dieter, Julio d'Escrivan, moderated by Rosa Menkman; transmediale, Berlin, DE
JAN 31, 2012; 6:30PM: transmediale 2012 Opening Ceremony - REALTIME PERFORMANCE; transmediale, Berlin, DE
JAN 31, 2012; 5PM: Dark Drives. Uneasy Energies in technological Times - GALLERY OPENING; transmediale, Berlin, DE
DEC 15 - ON; SPAMM (SuPer Art Modern Museum): IRL Vernissage January 19, 2012 at La Cantine, Paris, FR
Plugin BeachBall Success
imgs
developed for TM2K12
iTunesLib
imgs
Exploiting Genius Mixes
VELOCANIM_RBW_X-DEMO
imgs
An Award Winning Applescript Demo with Dinos
Windows, Rainbows, & Dinos
imgs
Desktop Performance for CAA & NMC
QTzrk
imgs
Broken Shark QuickTime
Too Many Cats!
imgs
My last cat-based artwork.
PURRFLUX
imgs
Cat Paint & & Satromizer for iPhone Mobile work
satromizer
imgs
"A Satromized World is a better world."
GLI.TC/H
imgs
Founding organizer of the GLI.TC/H conference/festival/gathering
XTAL FSCK
imgs
Jason Soliday and jon.satrom
Satromizer OS
imgs
An operating system for iPad glitch art
pox party
imgs
jon.satrom and bensyverson
TRENDS
-->
Google Trends IRL
PSTXTICS
imgs
On the edge of "signal" created for the End of Analogue gallery show.
ROM0
imgs
ROM 0 is a video made from computers
MEHOH
imgs
The DVD logo looks like a face...
MAGICK MISSILE
imgs
Geoff Guy, jon.satrom, & Jason Soliday
white light monolith wall
magicmatrixmixermoutain
imgs
Mark Beasley, Jon Cates, Jake Elliott, Alex Inglizian, Tamas Kemenczy, Nicholas O'Brien and Jon Satrom
SUBTXT
imgs
ASCII ART IRL installation
DOC 1
imgs
blah blah blah blah blah blah blah blah blah blah
Creative Problem Creating
imgs
Curated for Conversations At The Edge
r4wb1t5
imgs
micro/macro.fests
LNDSQRPS
imgs
2005 glitchgallery installation
I ♥ PRESETS
imgs
Rob Ray, jon.satrom, & Jason Soliday doing everything wrong the right way.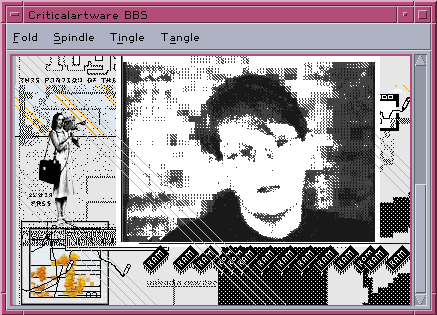 criticalartware
imgs
founding member of criticalartware
VOPNOSPUR
imgs
algorithmically manipulated frame-by-frame glitchwork
Yuppster Video
imgs
Video and album work for Yuppster release on Zod Records
Vitch
imgs
Video + itch or video + glitch
KOLOBOKZ
imgs
system output from a conceptually failing machine
My INTERWEB NETBLOG: